Time is Limited - Act Now

Families Whose Infants Have Suffered Complications From The Heavy Metals Found In Certain Toxic Baby Foods May Be Able To Seek Both Justice And Compensation
Families Whose Infants Have Suffered Complications From The Heavy Metals Found In Certain Toxic Baby Foods May Be Able To Seek Both Justice And Compensation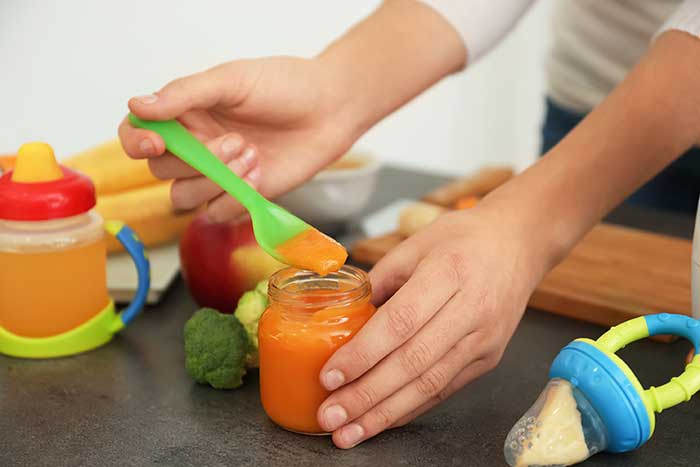 A 2020 congressional investigation reports that inside testing in these brands of baby food showed elevated levels of toxic heavy metals that led to irreversible long-term neurological damage:
A 2020 congressional investigation reports that inside testing in these brands of baby food showed elevated levels of toxic heavy metals that led to irreversible long-term neurological damage:
-Beech-Nut®
-Plum Organics®
-Gerber®
-Earth's Best Organic®
-Happy Family Organics® and HappyBABY® (made by Nurture®)
-Sprout Organic Foods®
-Parent's Choice® (made by Walmart®)
-Comforts Blueberry Little Puffs (Made by Kroger®)
-Simple Truth Organic Whole Grain Puffs (Made by Kroger®)
-Other Brands
How Heavy Metals In Certain Toxic Baby Foods Leads To Lifelong Neurological Damage 
There has been a concrete link made between a variety of toxic chemicals found in baby food with the development of the following disorders:
-Autism/Autism Spectrum Disorder
-Asperger's Syndrome
-Childhood Disintegrative Disorder (Heller's Syndrome)
-Kanner's Syndrome
-Pervasive Developmental Disorder
-Rett Syndrome
-Other Diagnosis
Both the World Health Organization (WHO) and the Food & Drug Administration (FDA) consider elevated levels of heavy metals to be dangerous to human health, particularly when speaking of the development of babies and younger children.
WHO listed its top 10 list of chemicals of major health concern, and some of those found in toxic baby foods at unacceptable levels include:
-Lead (one of the most direct links to neurological deficits)
-Mercury (may lead directly or indirectly to autism)
-Arsenic (may lead to deficits in cognitive function and behavioral problems)
-Cadmium (may lead to autism or autistic spectrum disorder

Exposure to these toxic heavy metals potentially causes a number of permanent, lifelong conditions in infants, babies, and young children–complications that include a decrease in IQ and permanent damage to a developing brain.
Reports And Studies Of Infants Suffering Neurological Damage From Heavy Metals In Toxic Baby Foods Filing Cases Are On The Rise 
Families of babies infected by these heavy metals in toxic baby foods are coming forward en masse and filing cases for compensation in courts of law.
The Food Navigator website cites a lawsuit filed against Plum, PBC® (owned by the Campbell Soup Company®) in which a California resident would have never paid money for baby food found to have excessively high levels of heavy metal intoxicants.
Another case filed against the Hain Celestial Group® (makers of Earth's Best Organic® baby food brand) found the plaintiff arguing that the levels of toxic heavy metals in various baby food products are not mentioned in the ingredient lists on the packages.
Other instances of lawsuits filed include:
-A carrot baby food product with 87ppb cadmium
-A sweet potato baby product with 48ppb lead
-Another sweet potato baby food product with 20ppb of lead
The Consumer Assistance Team believes that families with infants that have suffered complications from the heavy metals found in certain toxic baby foods should receive justice and compensation for losses.
Click Below To Check Eligibility
*Consent: By clicking the "SUBMIT" button, I consent to receive recurring auto dialed and/or pre-recorded telemarketing calls and/or text messages from Consumer Assistance Team or our partners in order to discuss my legal options and at the telephone number I provided. I also consent to the Consumer Assistance Team Privacy Policy and Terms of Use. I understand that I may receive a call even if my telephone number is listed on a Do Not Call list and that my consent is not a requirement of purchase. I understand that my telephone company may impose charges on me for these contacts and that I can revoke this consent at any time. For SMS campaigns: Text STOP to cancel and HELP for help. Msg & data rates may apply. Recurring msgs up to 27 msgs per month.
Please seek the advice of a medical professional before making health care decisions. This advertisement is not associated with Parent's Choice®, Sprout Organic Food, Earth's Best Organic®, Gerber®, Beech-Nut®, Plum® Organics, Happy Family Organics and HappyBABY® or
any government agency.
www.consumerassistanceteam.com is the property of Shield Legal LLC. 1530 Faraday Ave, Suite 200 Carlsbad, CA 92008
This website is not part of the Facebook website or Facebook, Inc. Additionally, this site is NOT endorsed by Facebook in any way. FACEBOOK is a trademark of FACEBOOK, INC.
ATTORNEY ADVERTISING. This Website is not intended to provide medical advice. Consult your doctor or physician before starting or stopping any medication.
Discontinuing a prescribed medication without your doctor's advice can result in injury or death. are not an indication of future results. Every case is evaluated on its own facts and circumstances. Valuation depends on facts, injuries, jurisdiction, venue, witnesses, parties, and testimony, among other factors. No representation is made that the quality of legal services to be performed is greater than the quality of legal services performed by other lawyers. Consumer Assistance Team does not itself provide legal services. Cases will be referred to third party attorneys and law firms. Do not rely on this advertisement in making any medical decision. Please call your physician before making any medical decision, including altering your use of any drug. Court costs and case expenses may be the responsibility of the client. Not available in all states. This advertisement is not intended as a testimonial, endorsement or dramatization, and does not constitute a guarantee, warranty, or prediction regarding the outcome of your legal matter, either expressed or implied. Anyone considering a lawyer should independently investigate the lawyers' credentials and ability, and not rely upon advertisements or self-proclaimed expertise. Only persons age 18 or older have permission to access our Service. Our Service does not address anyone under the age of 13("Children").
Privacy Policy | Terms and Conditions | CCPA Privacy Notice | Do Not Sell My Info
© 2022 Consumer Assistance Team. All Rights Reserved